Natural disaster survival kits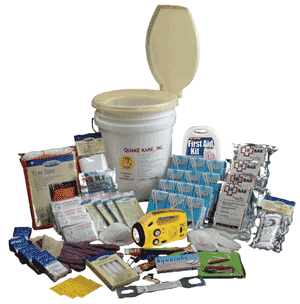 What is Bug Out Buckets?
Bug out Buckets are six gallon sealed buckets with all things needed to survive if you needed to evacuate in a hurry because of a hurricane or any natural disaster you could grab your bugout bucket and go in a moments notice.
"FEMA and the Red Cross, along with several other disaster recovery organizations, are stressing the importance for every home to have a disaster preparation kit stocked and ready. Below are the key items each home should have in their prep kit in order to have what they need if the power goes out or roadways become blocked.

Every Day Needs
Every disaster preparation kit should include food, water, and clothing. Non-perishable items like jars of peanut butter or fruit, granola bars, crackers, and canned goods should be packed in a box along with a large store of bottled water. Each family member should also pack an emergency bag with a few days of extra clothing and keep in near the other kit materials. This way it can be easily picked up should a fast evacuation be called for.

Equipment
One of the most important things that you need in your kit is a LED flashlight, preferably the waterproof LED flashlights. Though LED flashlights can be a bit pricier than the typical grocery store flashlights, the technology of the LED waterproof flashlights make them much more useful because they are able to last several times longer than a standard flashlight and require fewer batteries over the long term. These lights also put out a much brighter light, making them good for signaling for help. Also pack replacement batteries for your LED flashlights and keep them close to the actual flashlights so they are easy to find in the dark.

A disaster kit should also include a good knife, preferably a Swiss army or utility knife. These are compact multi-purpose tools that can help cut ropes or other things that may hinder evacuation, open canned goods and remove screws in other equipment.

A battery operated AM / FM radio is important so your family can hear news regarding the disaster, weather predictions, and evacuation notices. Keep all of the equipment together in an easy to carry box or case in an easy to get to place.

Documentation
Important family documents are one of the things most often forgotten in a disaster preparation kit. You should collect and keep a zip lock bag with your family's important documents, like birth certificates, passports, marriage license, insurance information, etc. sealed inside. Keep the bag in with your disaster materials or in with an adult's clothing. These documents are vital if you want to get back on your feet once the disaster has passed."
~Ben Anton, 2008